Schedule an Appointment Today
Give us a call at 678-813-8952 to go over your options on replacing your water heater.
When calling, please have the actual height of the tank and the capacity. If you have an electric fan on top of your heater or see the words "Power Vent" on your heater, please mention.
How Do I Know If I Need A New Hot Water Heater?
Your hot water heater's health is probably the last thing on your mind day to day.  Most hot water heaters have an average life span of 12-15 years. If your hot water heater has not gone out yet, it could very soon.  Let a licensed plumber like Greenlee Plumbing inspect your hot water heater to see if it can be repaired or if needs a replacement. Call 678-813-8952 today to schedule and appointment.
Things to look for to see if you have a bad water heater:
Does it take an extremely long time to for your water to get hot?
Do you run out of hot water quickly?
Are you taking cold showers?
Is your water heater leaking?
Your water heater is also the most dangerous appliance in your home.  Getting it tested and repaired or replaced can keep a catastrophe from happening.
It can leak water creating mold.
It can leak gas or build up excessive pressure, which can cause an explosion.  (See video below)
It can leak carbon monoxide, which is colorless and odorless, that can be deadly.
Pricing
Prices include Rheem water heater, all parts, labor and hauling away the old unit. Prices are for installation in garage, drive up basement or ground floor.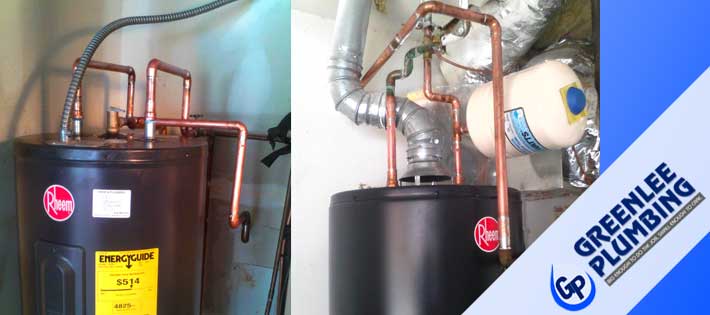 Do You Know If You Have An Expansion Tank?
If you don't know if you have an expansion tank, click here to see what one looks like. An expansion tank is required by code. If you have an expansion valve or have well system, you do not need an expansion tank.  We can help you determine what you have.